Every month there is some cause for celebration, whether it's a holiday, birthday or just a simple party. At moments like these, you want to listen to music as loud as possible. Sony is now offering its customers a new model of a home audio system – Sony GTK XB72. It's the largest portable speaker I have ever seen.
Appearance
The speakers from Sony's stables have always stood out for their interesting design. I definitely wouldn't call them boring.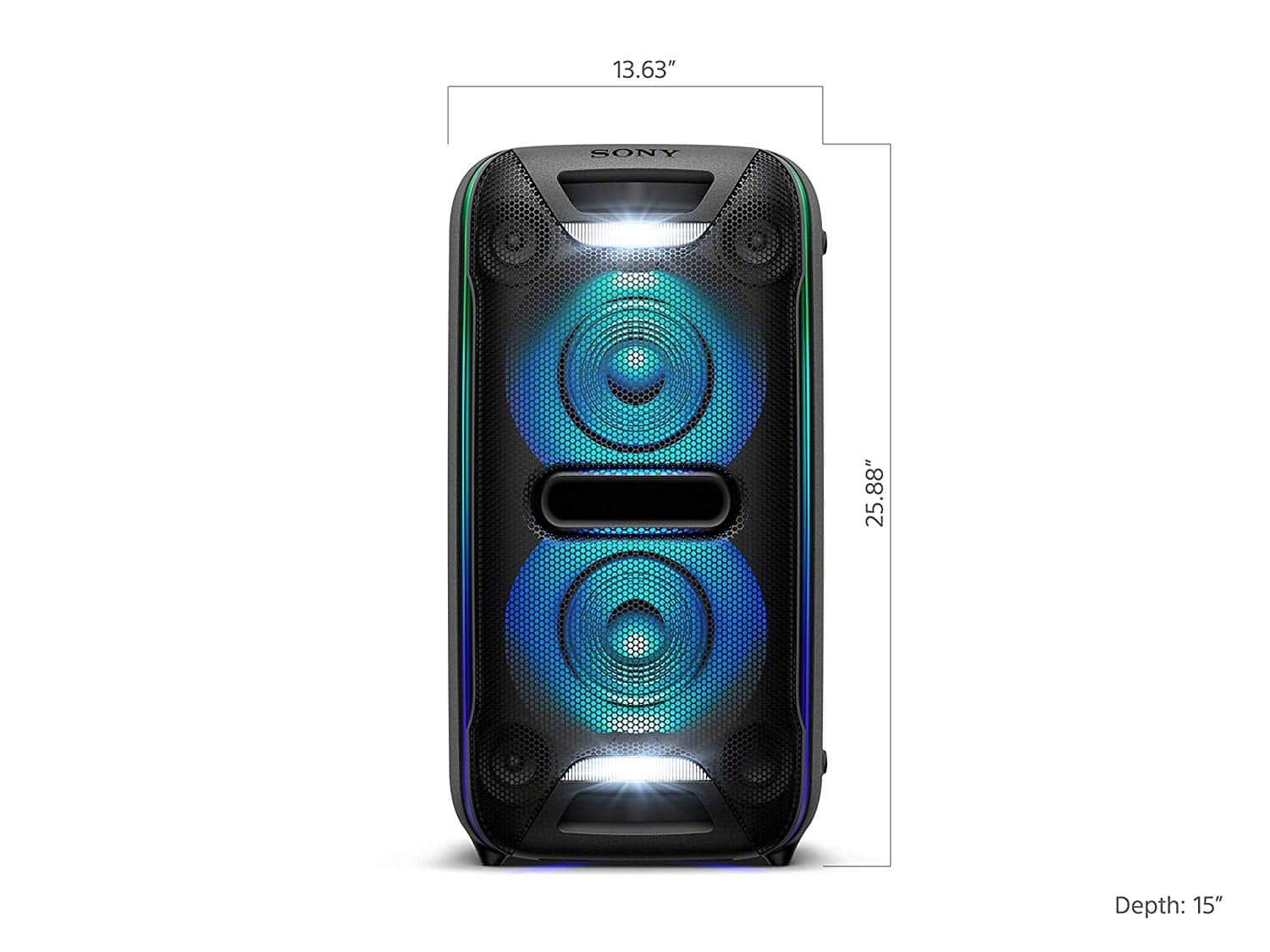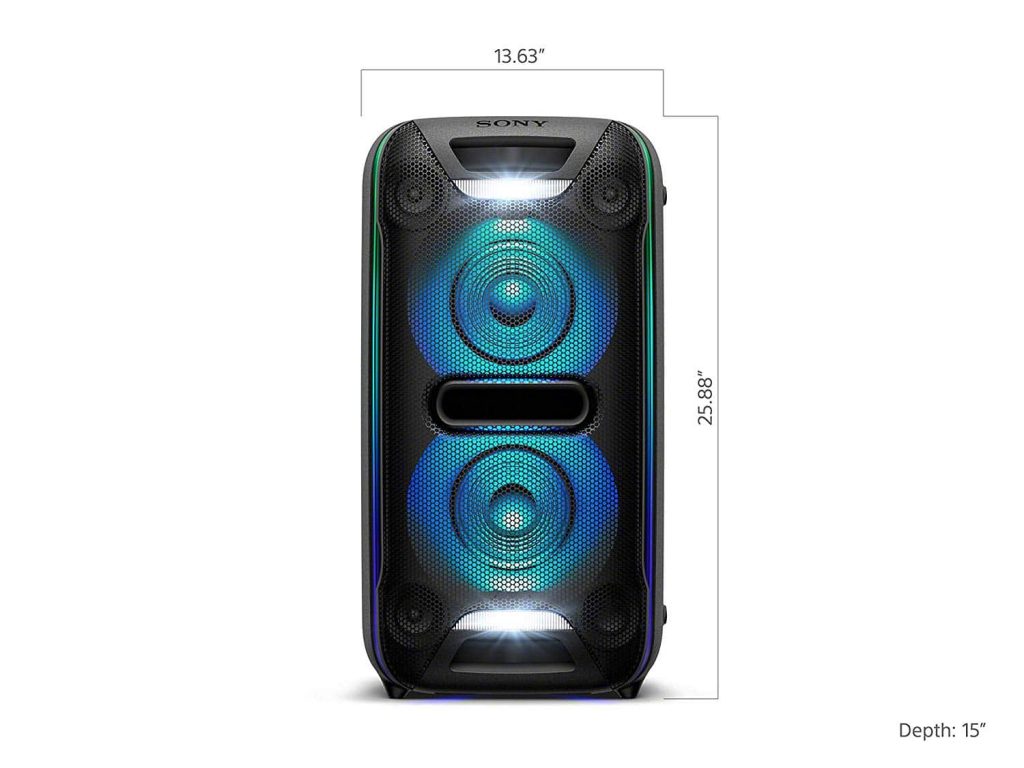 Sony GTK-XB72 is a very solid construction – the size of almost 66 cm high and 35 cm wide demonstrates that we are dealing with something more than a party speaker. Sony did not disappoint me this time, because the whole thing is just pretty. The use of good quality plastic, wood (yes, the speaker's "back" is made of wood) and metal elements and RGB straps is a nice combination – offering both a loud and subtle product for parties and home use.
As we know from the information from the packaging, the system can be operated in either vertical or horizontal position. The trapezoidal shape in this case is more harmonious in terms of design and functionality. Thanks to the LIVE SOUND function, this shape provides even greater sound coverage in the room.
Front
The front is completely covered with speakers. There is 6 of them in total, and they are protected from damage by a strong metal mesh. There are LED lights at the edges of this mesh which can be used as strobe lights when the sound system in turned on.
In addition to strobes at the edges, the mini-system has been provided with linear backlighting for the case and speakers. Linear illumination also covers the ends of the mini-system. In previous models this was not an option.
For ease of transport, the Sony GTK-XB72, like previous models is equipped with handles. It can be carried with either one or two hands.
Top
The top part contains most of the control buttons (if you use the mini-system horizontally, then the controls are on the right side).
The buttons are large enough to make pressing them easy. Linear backlighting visually separates the buttons into control and functional ones. The buttons are backlit by means of small white LEDs.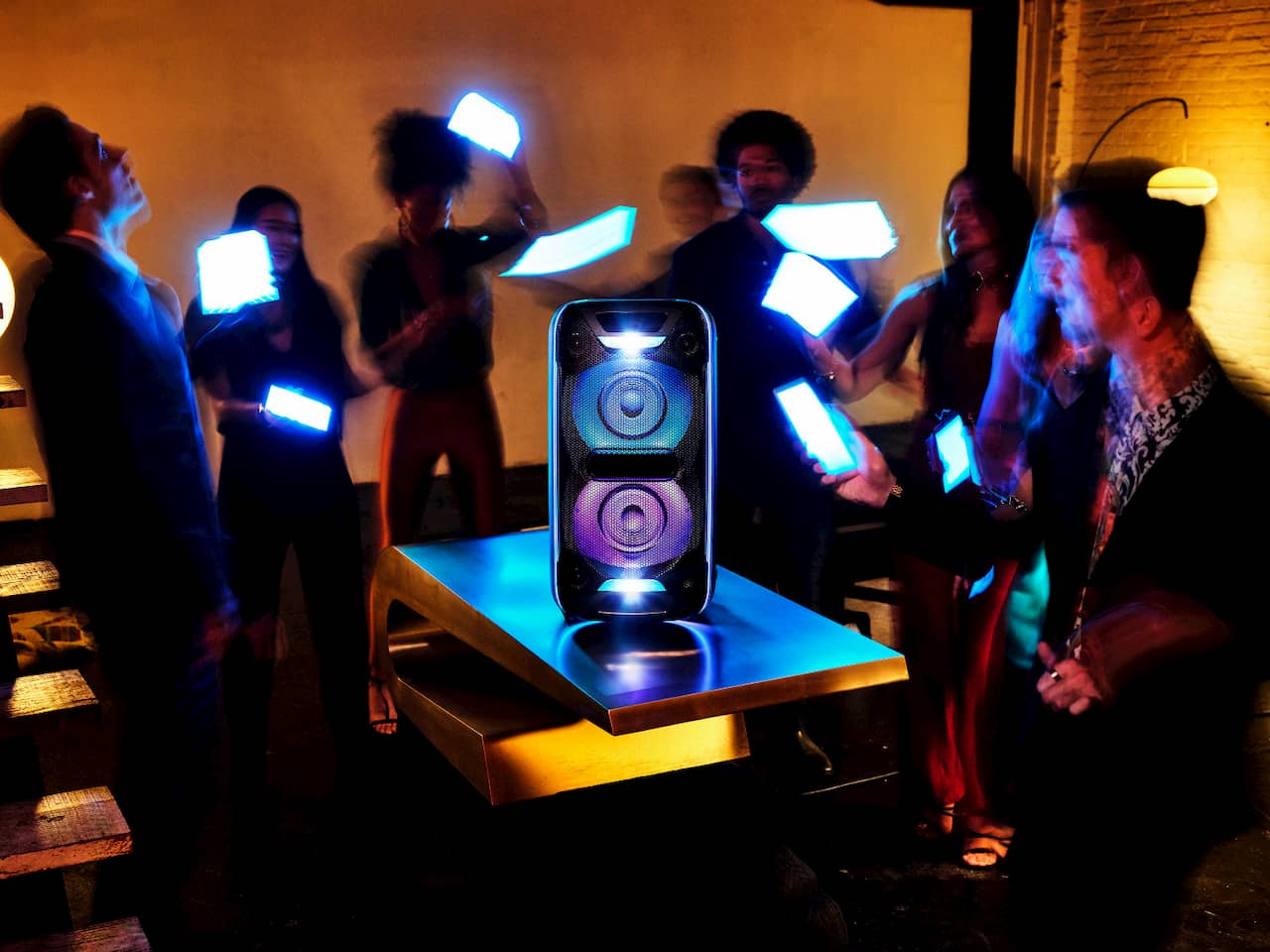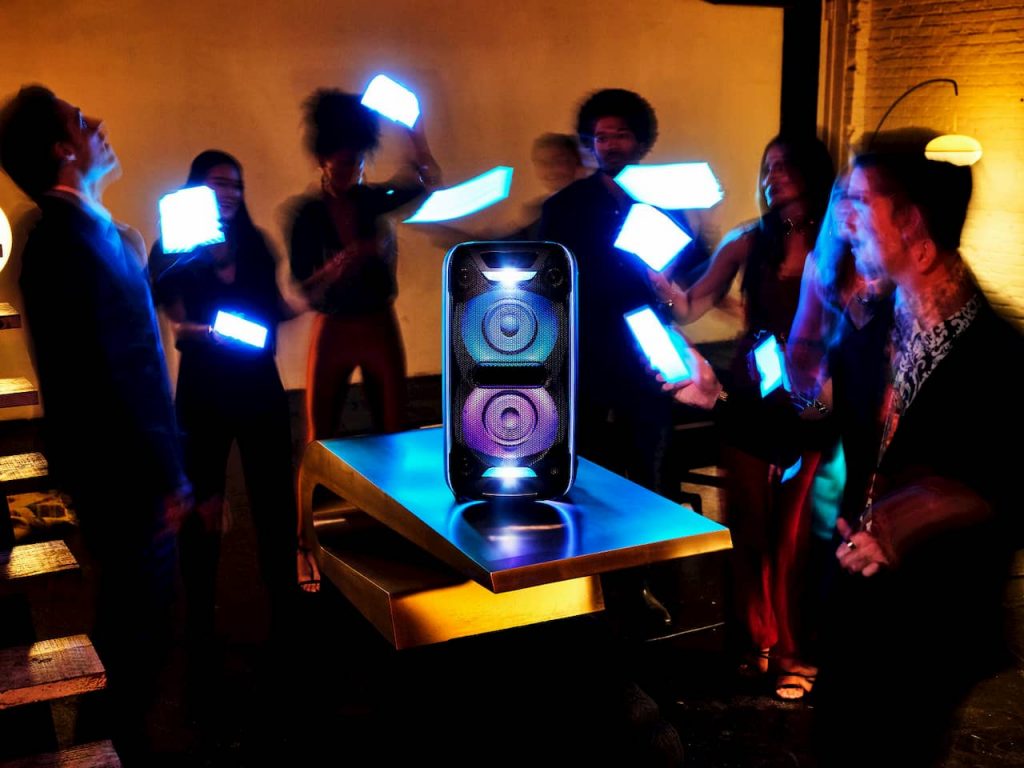 The power and sound buttons are not backlit, but they are separated by a considerable distance from the other buttons and are much larger than the other buttons. If you are using a smartphone with the system, the Sony GTK-XB72 has a special stand for it on the back of the case.
The legs do an excellent job of keeping the system from moving. Also, when installed on a polished surface, the mini system will not damage the coating.
But there is yet another additional little plus – the ability to control the whole thing from an app…
Sony Fiestable
Today everything can be operated with a smartphone, it' s no different in this case.
From volume to lighting management to sound effects, the GTK-XB72 shows its true potential not just when playing your favourite music, but also after you connect your phone to the speaker and pair it with the Sony Fiestable app.
There are many options. You can talk about it for a long time. But why? You better see for yourself.
As you can see in the video, it works quite well and it's very easy to connect it, there are a couple of ways to do it:
using NFC (the fastest and easiest to connect);
using a Bluetooth connection;
using an Audio cable (not included);
using the USB connector.
It's up to everyone to decide which way to use. The latest version of the application even allows you to control your GTK XB72 speakers using voice commands.
For quality of sound Sony used the following new technologies in this model:
Sony LDAC (LDAC – a new Sony audio technology, which allows you to enjoy high quality sound via wireless Bluetooth connection. Transmitting 3 times more data, LDAC provides enhanced wireless music listening capabilities),
DSEE (Digital Sound Enhancement Engine),
ClearAudio+ (enhances the surround sound of the source material, creating realistic sound, rich bass and constant volume level),
Sound
There comes a time when you have to say something about the quality of sound that can be generated by the speaker, and… I don't have a single bad point to make about it! The sound is just very, very good!
High and medium tones are as clear and clean as possible. The bass is really great too, you can feel it in your head!
Sony has even gone as far as to help people who have already lost their hearing at hardbass events and added the EXTRA BASS option, which gives even better, boosted bass that causes the small intestine to contract!
Additionally, if we have a fairly large surface area to cover, the manufacturer thought about this too and implemented the LIVE SOUND function. Here I quote the manufacturer: "DSP technology will send sound over a larger area. Make your party come alive with spatial sound – bring the atmosphere of a music festival to any place." It makes sense, but unfortunately I wasn't able to check it out in a larger space.
Summary
Summing up this review, we can say that Sony has managed to create and offer customers a decent alternative to the Sony GTK-XB7 model. The Sony GTK-XB72 turned out to be larger, louder and brighter.
The Review
Sony GTK-XB72
There is only one thing I can say about the whole thing - Sony GTK-XB72 is certainly a very interesting proposition for anyone who likes to arrange parties and listen to loud and clear good quality music - if you are able to dig a little deeper in your wallet (we can all agree that this thing is not that cheap) then it's worth to choose it over anything else in that price range! I'm giving it an 8 out of 10 rating - for great design, brilliant sound quality and a multitude of features thanks to Sony Fiestable.
PROS
Sound quality
Build quality
Modern design
The Sony Fiestable App
CONS
It's quite heavy
The price could be lower
The plastic coating
Review Breakdown
Design

0

Performance

0

Build Quality

0

Cost

0