There is a wide variety of fitness trackers available on the market and they can do more than ever before. With the most recent technological advances, they have become an essential part of our daily routines. These modern fitness tracking devices can help you lead a more healthy lifestyle and be a lifesaver in the most unexpected emergency situations.
It is also worth mentioning that we can find two different types of fitness trackers worn on the wrist on the market. In addition to smartwatches, there are also devices called smartbands. These are so-called intelligent wristbands. Smartbands are lightweight, easy to use and have slightly fewer functions than smartwatches. They remain useful for people of all ages, including the elderly as long as they have specific functions, such as measuring pulse, monitoring sleep or detecting unexpected falls. More sophisticated models connect to the phone and thus have the ability to display messages about incoming calls and messages. Fitness trackers with this option also come with the ability to notify emergency services when the device detects the need.
They will prove to be an apt accessory for those of us who are more physically active and want to keep track of their athletic progress, as well as those less active who, in addition to an interesting gadget, want a device on their hand capable of reacting and potentially saving their lives in emergency situations such as a sudden fall.
Best fitness trackers with fall detection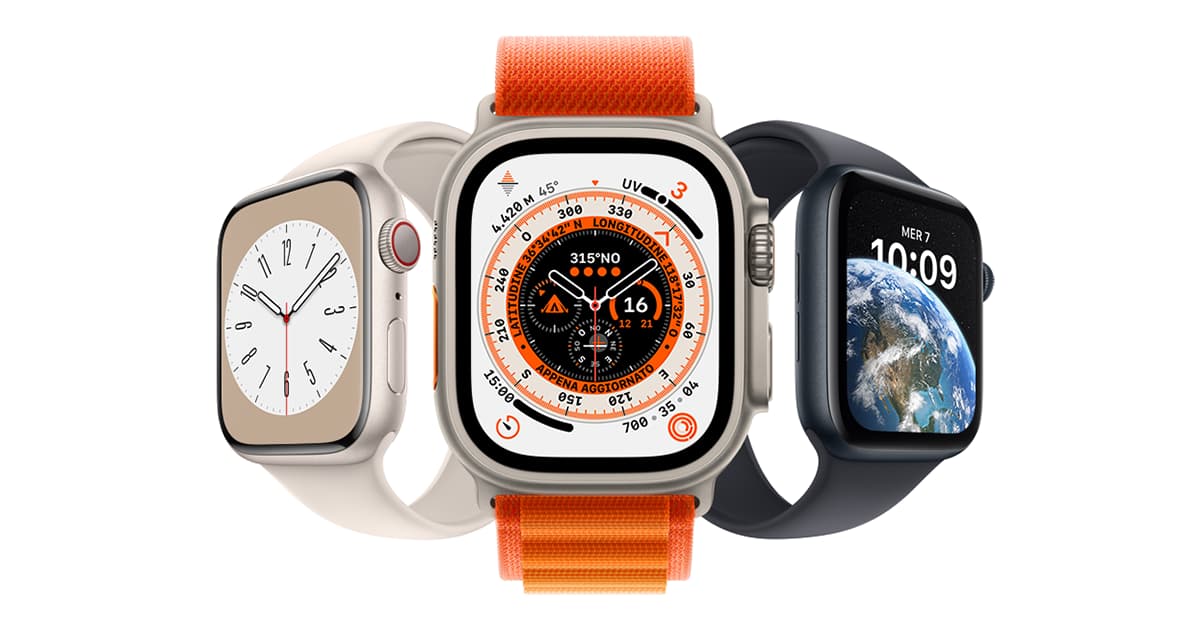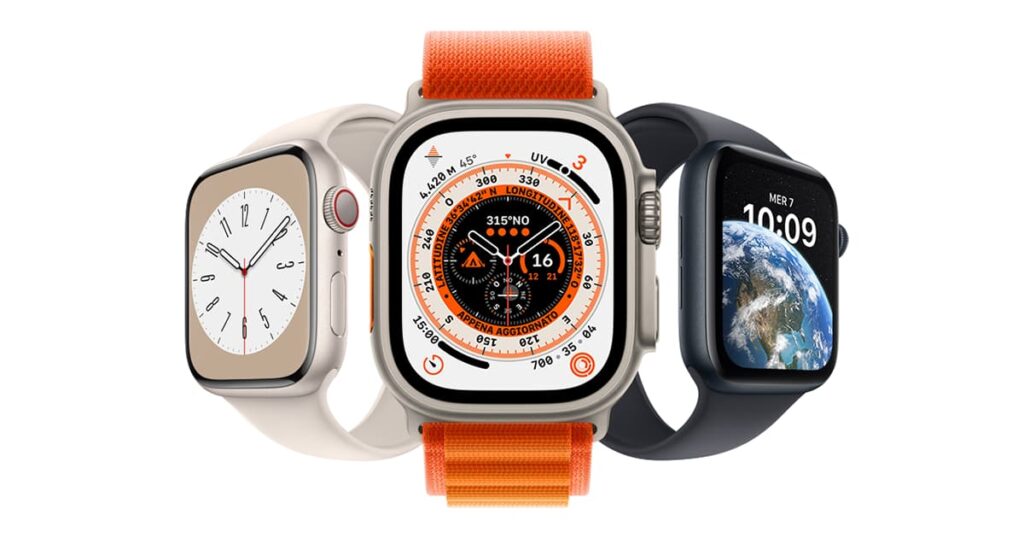 Best for iPhone users
Most battle-tested and most accurate fall detection
Not a good option for Android users
Large selection of customizable bands
The Apple Watch 7 is unique fitness tracker smartwatch for the whole family, including seniors. According to our tests it's currently the best and most accurate fitness tracker with fall detection feature. It has been proven to be fully functional in real world scenarios when it saved a man's life after he fell from an e-bike. If the person who is to use the watch has an iPhone, the Apple Watch may be the best solution. The watch will only work with phones with the iOS operating system. A huge advantage of this device is the large touchscreen display, ideal for people with vision problems. Besides, a set of classic additional functions such as measuring heart rate, sleep quality and much, much more.
In addition to that, it is also a great watch for someone who is a heart patient, as it comes with a dedicated ECG app that accurately monitors your heartbeat. It also alerts you if your pulse goes up or down from the normal range. It also allows you to share your health stats with your doctor in a very convenient and private way.
It has a beautiful always-on display making it easy to read your stats on the watch at a glance. So, overall, the Apple Watch 7 is the best smartwatch with fall detection feature and other smart features related to health and fitness tracking.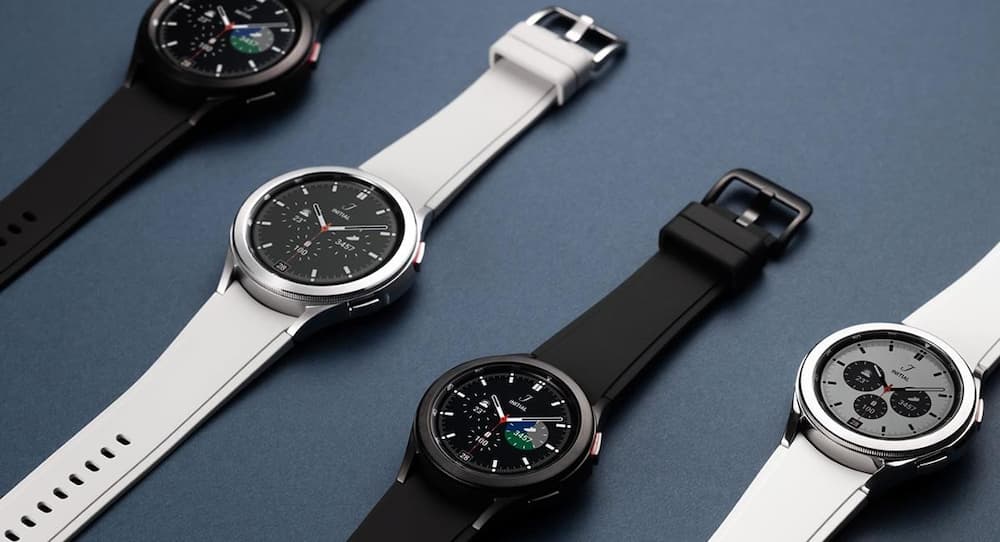 Unique body composition analysis feature
Fall detection just as good as on Apple Watch
Snoring monitoring
With its lightweight, less than 26-gram body made of reinforced aluminium, the Samsung Galaxy Watch 4 has features such as blood pressure and ECG measurement, rapid body composition analysis, pulse oximeter and sleep phase recording. The smartwatch also has an option that is extremely useful for people living alone – it is a fall detector. Thanks to it, in a dangerous situation the watch will automatically send a notification to the assigned contact number, so that the senior can get help as soon as possible. The device is equipped with a Super AMOLED screen and a GPS module. It has access to the Play Store, Google Maps and the Google Pay app, designed for contactless payments. When paired with a Galaxy smartphone, the gadget can receive calls and notifications.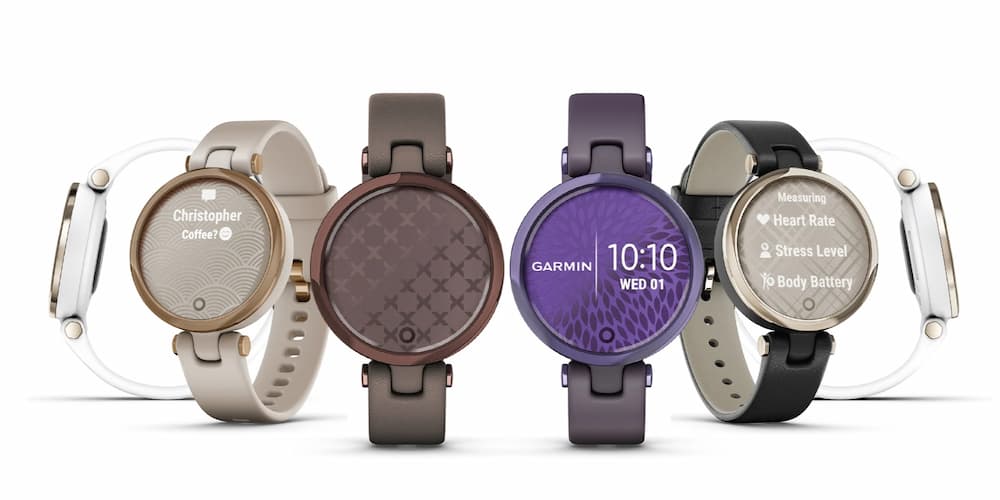 Cute and unique design
Less accurate fall detection
Garmin Lily is the latest and smallest series of watches from this manufacturer created for women. Watches from the American manufacturer Garmin stand out from the crowd with their high build quality, stable performance and access to the great Garmin Connect app for monitoring and analyzing our health and physical activity. It is a good option for those looking for the smallest watch with smart functions. In addition to the functions of a watch, fitness tracker and smartwatch (notifications), Lily measures our heart rate, blood oxygenation, calories, stress, fatigue (Body Battery function). It also has the ability to track our menstrual cycle, as well as pregnancy. Garmin Lily also allows you to count the amount of fluids you take in during the day. A particularly appealing display design makes the Garmin Lily a completely unique product on the market.
The fitness tracker can automatically trigger event detection notifications for friends/family if you unexpectedly fall during a workout. After you fall, you'll have about 10 seconds to cancel the notification if there's no reason to notify your family that you've just face-planted into a puddle. However, jumping and other sudden movements can falsely triggered the alert, which is extremely rare with other watches. However, recently the watch received a significant firmware update and the fall detection accuracy has been improved but it's still not as accurate as Samsung or Apple.
How does fall detection work on fitness trackers?
Every fitness tracker on the market is equipped with a range of integrated motion and acceleration sensors. The data from these sensors is sent to the trackers software where its interpreted by an algorithm that is usually AI-assisted. If the algorithm detects an unusually fast downward movement, it reacts accordingly.
What happens after a fall is detected depends on the capabilities of the smartwatch fitness tracker that you're currently using. Virtually all devices capable of detecting falls will, at the very least, send a message to a previously designated emergency contact. This message can contain further information regarding the detected emergency such as the GPS location of the possibly injured senior or anyone else. Some fitness trackers can also call emergency services if they detect a fall and you become unresponsive.
How exactly this is solved varies from device to device.
Do seniors need a fall detection fitness tracker?
A fall detection fitness tracker can add great value to an elderly persons life. Other than being a potentially life-saving device, it can also measure your pulse and oxygen saturation. Some devices, like the Samsung Galaxy Watch 4 can even perform a body composition analysis to help you lead a healthier life.
Falls can occur both in everyday life and during sport activities such as walking, jogging, swimming, cycling or hiking. Wearing a fall detection device is therefore particularly advisable for those who play sports or have limited health or are elderly. This is because the probability of a dangerous fall is increased here. This certainly also applies to several professions.
The dangers of falls in the elderly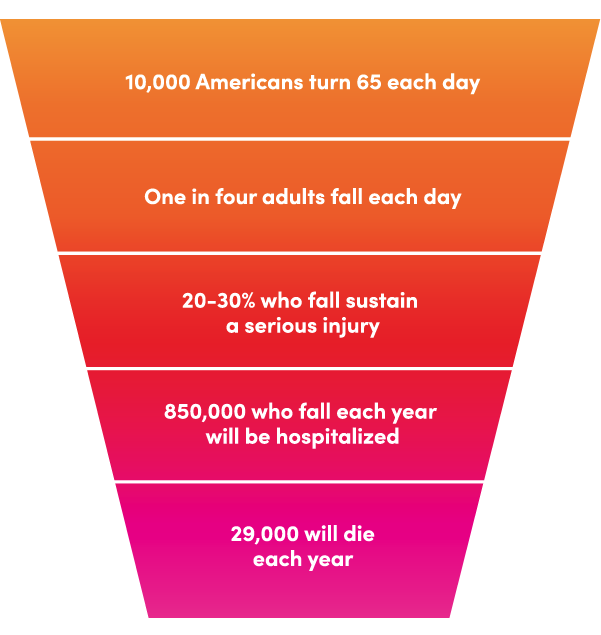 According to the World Health Organization statistics, on average, between 28-35% of people over the age of 65 fall at least once a year. With age, the risk of falling increases. After age 70, falls are reported in as many as 32-42% of people. Among people who have already fallen once, however, the risk of subsequent falls is higher.
Given the weakening of musculoskeletal structures, the consequences of falls in the elderly are more serious than in young people. The aftermath of one in two falls results in injuries leading to hospitalization. The most common injuries associated with falls include lacerations, concussions, intracranial hematomas, bone fractures and burns. Past injuries can also lead to a decrease in patient physical activity resulting in more complications such as bedsores, contractures in the joints, venous thrombosis, pulmonary embolism or infection.
Even seemingly harmless falls can have tragic consequences. The body of the elderly is both more susceptible to injury and repairing damage is more difficult. Statistics show that among people over 65, falls are one of the leading causes of death among accidental deaths. More than half of those who experience a fall remain immobile for some time-for example, in the case of femoral neck fractures, half of the patients lose their ability to walk. The consequences of falls, in addition to physical injuries, include changes in the patient's social behaviour (for example reduced social activities, reluctance to spend time actively, leaving home less often) and a greater risk of psychological problems – loss of self-confidence, reduced activity – and psychological problems such as depression, for example.
In the end, during emergency situations seconds matter and a fitness tracker with fall detection can significantly lower the time it will take for emergency first responders to reach your location and in case you are unconscious, it might be the only reason they'll be able to find you at all.